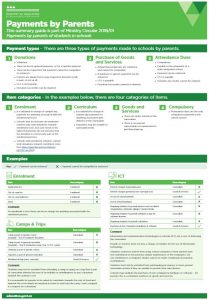 ILLEGAL/LEGAL PAYMENTS BY PARENTS CIRCULAR
Boards of Trustees and proprietors need to be aware of this recent circular, which explains what may be charged for, and what can only be a donation. While the information has not changed, the layout and explanatory information has been redeveloped and it is important that schools take it on board. Read more.
PAYMENT OF FEES AND FINANCIAL ASSISTANCE 2018
NZQA has updated their advice for the payment of NCEA and New Zealand Scholarship fees and applications for financial assistance 2018, link here.
WELLBEING SURVEY
This free anonymous student survey tool provides a means for schools to capture student voice to inform the development of their Strategic Plan, 2019 Charter and Annual targets. Link here.
SCHOOL PROPERTY REFORM
At the South Central Property Sector meeting earlier this month, the Ministry of Education provided further detail about the School Property Reform work presently underway. They reported that Government has idenfitied inconsistencies between school properties, with too many schools having outdated or poor quality facilities that no longer meet their educational needs.
Throughout August the Ministry was engaging with the school sector. In October 2018, they intend to take an early iteration of the long term property plan to Cabinet. If you are interested in contributing your ideas, email the engagement team (click here). A copy of the related cabinet paper is available here.
MINISTRY OF EDUCATION THANK YOU
A big thank you from the Ministry for submitting responses to Policy One Confirmation on time. This helped them achieve a KPI!
WARREN TRUST AWARDS FOR ARCHITECTURAL WRITING
Secondary school students are encouraged to enter the Warren Trust Awards for Architectural Writing by writing an 800 word essay describing the best building they've been to and why they like it.  Essays should be sent to writingawards@nzia.co.nz. Winners of the secondary school category will receive a $1000 cash prize. Entries close 10 September 2018. Read more here.