I-Can is an international project for children and young people from all over the world to meet the challenge of Laudato Si': on care for our common home.
The project is endorsed by Pope Francis, the Congregations for Catholic Education, and the OIEC (International Organisation for Catholic Education).  OIEC leader, Philippe Richard, was at the 2018 Catholic Education Convention.
I-Can asks primary and secondary school students to co-create and carry out a project which will contribute to the cause of caring for our common home.
A simple methodology based on Design Thinking, has been developed, called Design for Change (DFC), and it is provided for this project.
Schools around the world have already begun to take part.
New Zealand Catholic primary and secondary schools should feel very comfortable with this methodology, which is similar to what is often being done in schools already.  Further, New Zealand schools have a reputation for doing these sorts of projects already.  Many of these projects might be eligible to enter for I-Can.
Stories of the projects will need to be completed and submitted by June 2019.  We are hoping to bring students to a North Island gathering and a South Island gathering in August 2019, to present and speak about their projects to each other.
In 19-23 November 2019 DFC intends to take 5000 senior primary and secondary school students to the Vatican to present their projects.  DFC NZ hope that 60 students will be able to go from New Zealand.  Funding to support the cost of transport will be available, and free accommodation including meals has already been arranged in Rome. Selection to attend the Vatican will be made in late August 2019.
At this stage we ask you to consider involving your school in this adventure.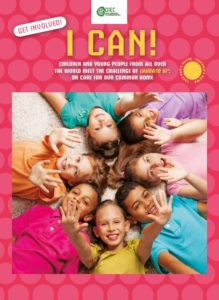 For more information:
Visit their NZ website: www.dfcnz.org.
Or contact Vivian Sung, Co-Founder for Design For Change New Zealand, info@beelive-workshop.co.nz and 09 889 0615.
Additional information is also available below: